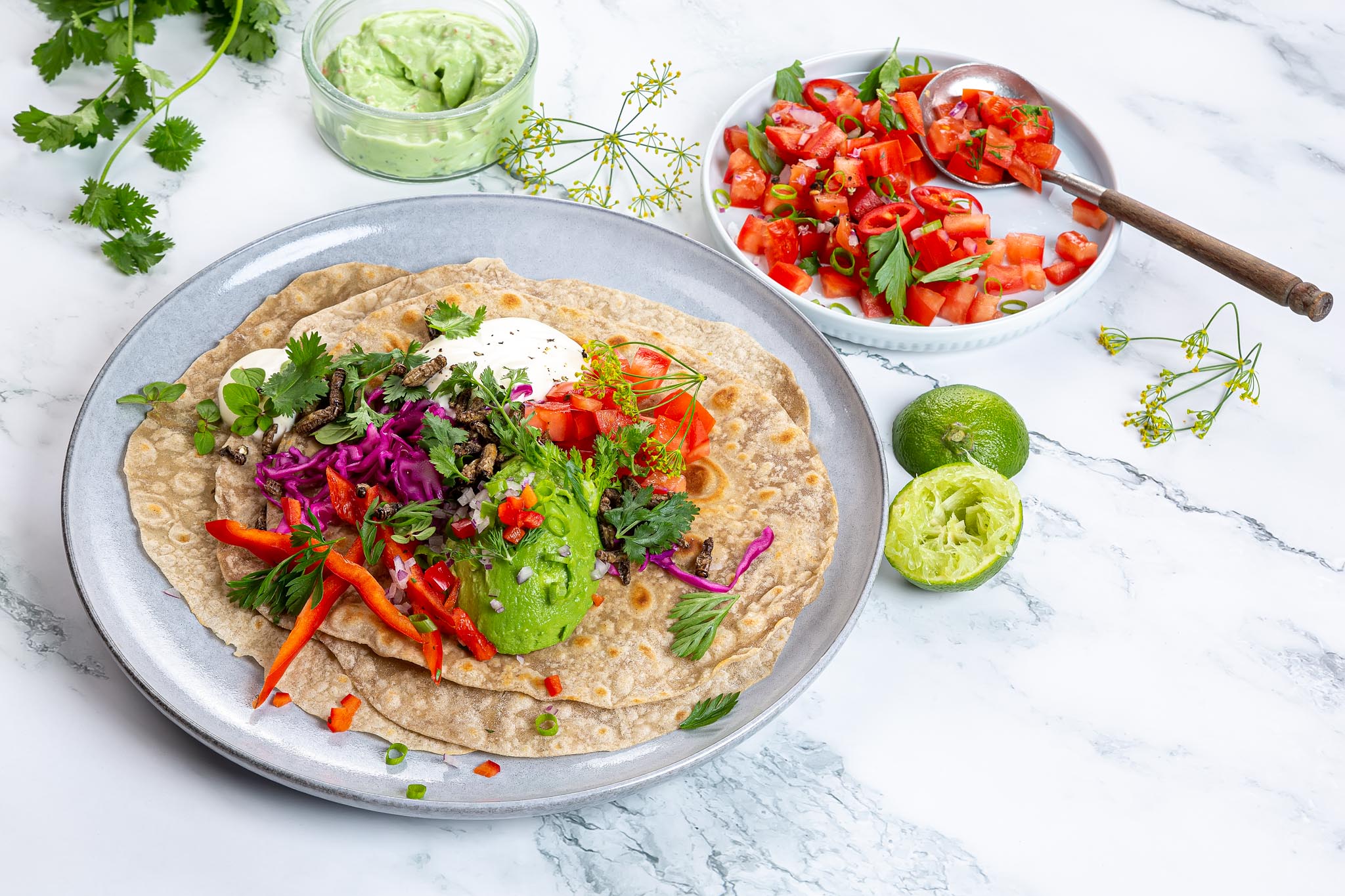 Tortillas with Crickets
Much loved by holidaymakers and picnickers alike, tortillas with crickets are undoubtedly among the great culinary discoveries. The easy and quick to prepare tortillas are distinguished by their crispy, highly nutritious dried crickets, which combine harmoniously with the fresh vegetable filling.
INGREDIENTS FOR TORTILLAS (20 pcs) :
400 g wheat flour;
50 g cricket flour;
1 tsp salt;
0,5 tsp baking powder;
70 g olive oil;
180 ml warm water.
PREPARATION:
Mix the wheat and crickets flour with the salt and baking powder, add the oil and stir. Then pour in the water and gradually knead, stirring, until smooth. Form the dough into small balls (20-30 g), cover with a damp kitchen towel and leave to stand for about 20 minutes.
Roll each ball as thin as possible, turning it over and over. Preheat a frying pan over medium heat. Place the rolled dough in the pan and bake both sides for 15-20 seconds. As soon as you see bubbles rising in the dough, flip the other side. After baking, cover the scones well with a kitchen towel, otherwise they may dry out and harden quickly.
INGREDIENTS FOR THE TORTILLIA FILLING (for 4 persons):
25 g dried crickets with chili peppers and smoked paprika;
200 g red cabbage;
300 g ripe tomatoes;
1 large avocado;
2 tbsp chopped red onions;
2 tbsp finely diced red bell peppers;
2 tbsp sour cream;
4 tsp balsamic vinegar;
1 lime;

a pinch of fresh coriander;

salt, freshly ground pepper.
PREPARATION:
Cut the cabbage into straws and mix with balsamic vinegar, salt and pepper. Dice the tomatoes and mix with chopped coriander, salt and pepper. Mash the avocado and mix it with the chopped onion, peppers, lime juice and salt and pepper.
Place all the ingredients on a tortilla baked with cricket flour, topped with sour cream, dried crickets and coriander.
"

An incredibly simple homemade tortilla recipe that's all about protein in every bite.

"