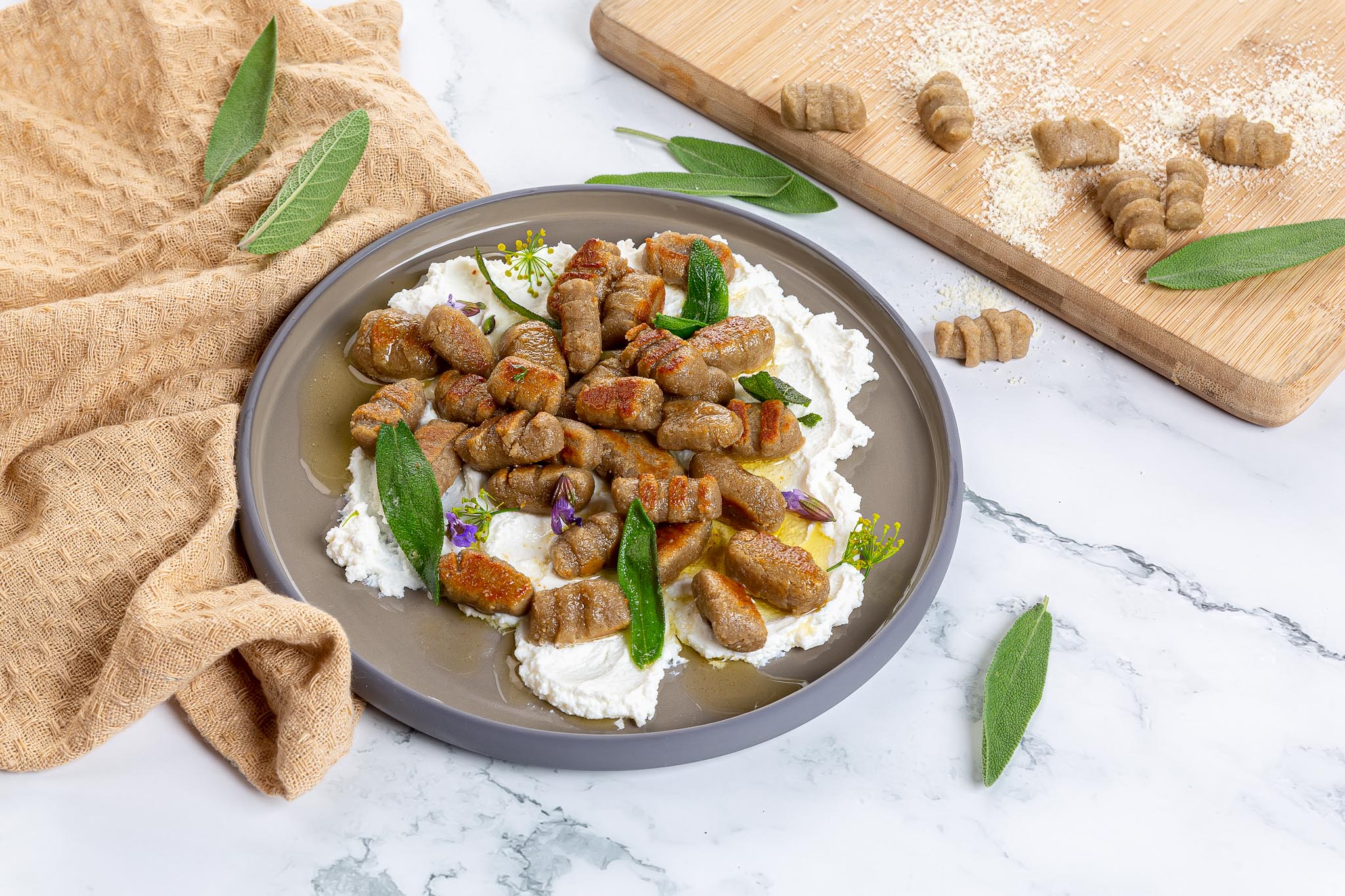 Crispy Gnocchi with crickets flour and mozzarella
Don't get bored in the kitchen! Replace the usual dumplings with crispy, soft, delicate Gnocchi. The golden crust that forms when fried in butter adds an extra layer of mystery to the dish, revealing a distinctive taste that is sure to please everyone in the family. Make it fun.
INGREDIENTS FOR DOUGH (4 servings):
220 g 

almond flour;
30 g crickets flour;
60 g grated mozzarella cheese;
60 g creamy spreadable cheese;
1 egg.
120 g ricotta cheese;
2 cloves of garlic;
30 g butter;

Fresh sage leaves;

A little grated lemon peel.
Mix the grated mozzarella cheese and cream cheese together. Place the bowl with the cheeses on a pan of simmering water and melt them in a steam bath, stirring constantly. Then quickly add the almond and cricket flour mixture before the cheeses cool down and set, and stir. Crack the egg and stir again very well.
Cover the dough and leave it to rest in the fridge for about 30 minutes. Shape and cut the dough into dumplings (as for curd pancakes). If you wish, you can use a fork to make grooves.
Melt the butter in a hot frying pan, add the garlic (just press the garlic, don't crush it, so that you can easily remove it later), the sage leaves and the formed dumplings, and fry them, stirring continuously, until they are nicely browned and charred on all sides.
When serving, first spread the ricotta cheese generously on the plates. Then place the fried gnocchi on top, drizzle lightly with the butter sauce, sprinkle with grated lemon zest and garnish with sage leaves.
This recipe is unique. Just like the Gnocchi themselves, which for the first time uses cricket flour. Enjoy the harmony of protein and flavour.